Self Storage in Linz
Unlocking the Benefits of MyPlace Storage
Personal consulting
Available now, flexible durations
All-round service
Parking lot
Tools, tires, sports equipment or clothes are taking up valuable space in your garage? You would like to have more space in your home, but don't know where to put things you rarely use? We have the solution: With 4 floors and 650 secure and clean storage units, you will find as much storage space as you need at our MySpace location in Linz.
Self Storage in 4020 Linz: Enjoy the Benefits
Simply book one of our storage units online or on-site at our location in Linz and benefit from the following advantages:
Spacious loading area: Thanks to the generous loading area, loading and unloading items is easy and convenient.
Barrier-free transport: Our Linz location is designed with accessibility in mind, allowing customers with mobility limitations to store their belongings easily and safely.
Freight elevators: For easy access and uncomplicated use of your storage space, two freight elevators are available to you at this location.
Self Storage Costs & Rental Period
Rental is at a fixed price and is billed every four weeks. The costs of our storage compartments vary according to size and availability. Here you will find a general overview of our prices at the Linz location: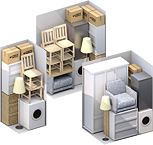 Small, 1-3 m2
from 9,08 EUR per week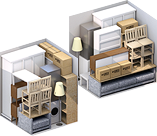 Medium, 3-5 m2
from 22,95 EUR per week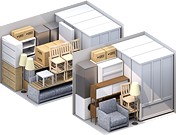 Large, 5-10 m2
from 32,59 EUR per week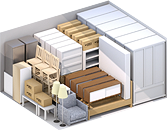 XL, 10-20 m2
from 69,72 EUR per week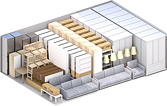 XXL, 20-50 m2
from 81,10 EUR per week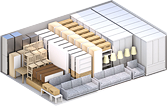 XXXL, >50 m2 currently unavailable
Rental can start at any time. The minimum term is 2 weeks, the remaining term of the lease can be customized to your needs and can be terminated on a weekly basis. We at MyPlace SelfStorage greatly value long-term relationships with our customers and reward the loyalty of our long-term tenants with a discount of -15 % on the annual rent (in case of prepayment).
A detailed list of available warehouse sizes and costs can be found in the next step of our easy booking process.
How to Reach Our Storage Facility in 4020 Linz
Come and visit our location at Unionsstraße 73, which you can reach easily from Linz Central Station either on foot, with a walking time of 7 minutes, or by using the following public transport options:
S-Bahn Line 1 (Unionkreuzung station)
O-Bus Lines 41 or 43 (Hanuschstraße station)
If you want to bring your belongings to us from the city center using public transport, we recommend:
S-Bahn Line 3 (Untergaumberg station)
If you are travelling by car or transport vehicle, it is easiest to take the following route:
via the West Autobahn A1 (via Autobahnkreuz Knoten Linz towards A7 Praha/Czech Republic/Freistadt/Linz and exit at Unionsstraße)
At our Linz location, free parking spaces are available, allowing you to store your belongings  without the hassle of searching for parking.
Opening Hours
The MyPlace SelfStorage facility in Linz is open every day from 06:00 to 22:00.
You can access the building with your access code, which you can set individually during the booking process.
Our storage team is available to assist you in person, by phone, or via email from Monday to Friday, from 08:30 to 17:30.
Any Questions?
If you're unsure about how much storage space you really need for your belongings, you can use our convenient storage space calculator or contact us by phone or in person for comprehensive advice. Our experienced storage professionals are eager to assist you in choosing the appropriate storage solution and introduce you to our numerous additional services.
Our services in Linz
Satisfied customers in Linz
from 151 reviews
Makellos sauber, sehr praktisch, nur 2 Wochen Kündigungsfrist und ein sehr nettes und hilfsbereites Team. Myplace ist ziemlich teuer und ein wenig längere Öffnungszeiten des Büros wären für uns, die wir nicht aus Linz sind, fein. Dennoch eine absolute Empfehlung!
Show all reviews