Rent Storage in 1120 Wien Margareten
Your Self Storage Unit Near Margareten in Vienna is the Perfect Place for Your Furniture, Summer Tires, and More.
Personal consulting
Available now, flexible durations
All-round service
Parking lot
Whether you want to store tools, clothing, or books in the short or long term, our Wien Margareten location offers plenty of space across 7 floors. Rent one of our approximately 1,300 secure, clean, and well-maintained storage units and make room for the important things in life!
Self Storage Near Margareten: These Are Your Benefits
Simply book one of our storage compartments online or on-site at our Wien Margareten location and benefit from the following advantages:
Video-monitored parking spaces: Our location provides secured parking spaces where you can temporarily or permanently keep your second cars, trailers, motorhomes, motorcycles, or classic cars.
Optional extra insurance: Our highest priority is the protection of your stored belongings. Therefore, we offer affordable unit insurance that covers damages caused by fire, burglary, vandalism, water damage, and natural events.
Affordable compact boxes: Our 1m³ boxes are the perfect storage solution if you want to stow away a few items or a couple of suitcases.
Large loading area: You have plenty of space to maneuver your car, load and unload your belongings in a relaxed and stress-free manner. 
Barrier-free transportation: The Wien Margareten location is designed to be accessible and barrier-free, allowing customers with limited mobility to store their items easily and safely.
Two spacious freight elevators: This location has two freight elevators that make loading and unloading items easier. You can easily store and transport heavy and bulky items.
Self Storage Costs & Rental Period
Rental is at a fixed price and is billed every four weeks. The costs of our storage compartments vary according to size and availability. Here you will find a general overview of our prices at the Wien Margareten location: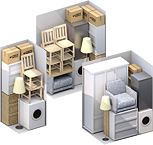 Small, 1-3 m2
from 14,02 EUR per week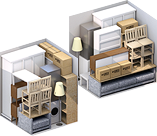 Medium, 3-5 m2 only a few available
from 34,40 EUR per week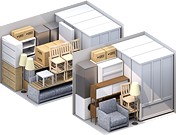 Large, 5-10 m2
from 45,33 EUR per week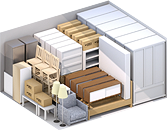 XL, 10-20 m2
from 69,18 EUR per week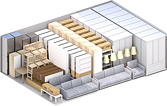 XXL, 20-50 m2
from 115,25 EUR per week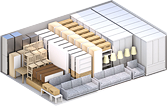 XXXL, >50 m2 currently unavailable
Rental can start at any time. The minimum term is 2 weeks, the remaining term of the lease can be customized to your needs and can be terminated on a weekly basis. We at MyPlace SelfStorage greatly value long-term relationships with our customers and reward the loyalty of our long-term tenants with a discount of -15 % on the annual rent (in case of prepayment).
A detailed list of available warehouse sizes and costs can be found in the next step of our easy booking process.
Directions to our Storage Facility in 1120 Vienna
Our storage compartments near the 5th district of Vienna Margareten are located at Gaudenzdorfer Gürtel 51-59 in 1120 Vienna. The following public transport lines will get you there quickly and conveniently:
U4 (Margaretengürtel station)
Tram line 6 (Margaretengürtel station)
Tram line 67 (Margaretengürtel station)
If you are transporting your belongings by car or van, the best way to reach us is:
Heading inwards on the Gürtel main street - you will find our location across from the Margaretengürtel subway station.
Parking at this location is of course free for our customers. This allows you to load and unload your belongings directly in front of the building, saving you valuable time and long transport routes.
Opening Hours
You can use the storage units at MyPlace SelfStorage in Vienna Margareten every day from 06:00 to 22:00.
You can access the building using your individual access code, which you can set during the booking process.
Our team is available from Monday to Friday, from 08:30 to 17:30, and on Saturdays from 09:00 to 13:00. You can reach them in person, by phone, or via email.
Any Questions?
Not sure how much storage space you need? Use our storage space calculator and quickly find out how big your ideal storage compartment should be. Our staff is also available during office hours to provide personal, phone, and email support, taking the time to provide comprehensive advice on additional services, tips for proper storage, and more.
Our services in Wien Margareten
Satisfied customers in Wien Margareten
from 201 reviews
Das My Place Team vor Ort ist sehr hilfsbereit, kompetent und stets bemüht. Schnelle, unkomplizierte Abwicklung und Hilfe der Mitarbeiter beim finden des Lagers, sowie der Anmietung oder Kündigung wieder. Immer wieder gerne. Vielen Dank für alles.
Show all reviews