Storage Facility in 1230 Wien Triester Straße
Rent a Storage Unit on Triester Straße and Give Your Belongings a Temporary New Home.
Personal consulting
Available now, flexible durations
All-round service
Parking lot
If you are attached to some of your furniture, sports equipment, clothes, or books, but they simply take up too much space in your home, you should consider finding them a new temporary place to stay in our 4-story warehouse on Triester Straße. 530 meticulously secured and clean storage units are waiting to house your belongings!
Rent a Storage Space in 1230 Triester Straße: These Are Your Benefits
You can rent one of our storage units in a quick and easy online or in-person process at the Vienna Triester Straße location and enjoy the following advantages:
Extra security: The safety of your stored items is our highest priority. Therefore, we offer affordable unit insurance that covers damages from fire, burglary, vandalism, water damage, and natural disasters.
24/7 access to outdoor units: Our break-in-proof outdoor units are accessible around the clock, providing maximum flexibility.
Charging station for electric cars: Use the charging station at Vienna Triester Straße to charge your electric car while storing your belongings.
Spacious drive-in and loading area: Our location offers a generously sized drive-in and loading area, ensuring smooth and stress-free loading and unloading of your belongings.
Barrier-free transport: The way to and from the storage units is barrier-free, guaranteeing all of our customers a hassle- and stress-free experience.
Two spacious freight elevators: The location is equipped with two spacious freight elevators, making it easier to transport items from and to your vehicle. This allows you to store and move heavy and bulky items without any problems.
Self Storage Costs & Rental Period
Rental is at a fixed price and is billed every four weeks. The costs of our storage compartments vary according to size and availability. Here you will find a general overview of our prices at the Wien Triester Straße location: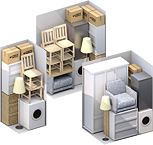 Small, 1-3 m2
from 10,91 EUR per week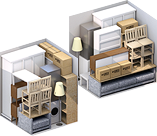 Medium, 3-5 m2
from 22,68 EUR per week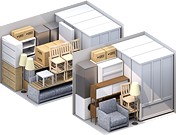 Large, 5-10 m2
from 34,99 EUR per week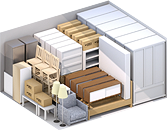 XL, 10-20 m2
from 60,45 EUR per week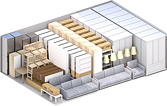 XXL, 20-50 m2
from 103,09 EUR per week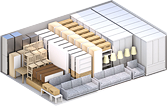 XXXL, >50 m2 currently unavailable
Rental can start at any time. The minimum term is 2 weeks, the remaining term of the lease can be customized to your needs and can be terminated on a weekly basis. We at MyPlace SelfStorage greatly value long-term relationships with our customers and reward the loyalty of our long-term tenants with a discount of -15 % on the annual rent (in case of prepayment).
A detailed list of available warehouse sizes and costs can be found in the next step of our easy booking process.
Directions to our Location in 1230 Triester Straße, Vienna
To reach us by public transportation, take:
bus line 64A (Erlaaer Spitz station)
bus line 65A (Sobotgasse)
bus line 66A (Purkytgasse)
bus line 67B (Purkytgasse)
bus line 303 (Neu Erlaa) or
Badner Bahn (Neu Erlaa station)
If you'd rather transport your belongings by car or moving truck, the best way to reach us is as follows:
Coming from the city center via the A23: Take the Inzersdorf exit onto Triester Straße.
Coming from Lower Austria/Mödling: Take Triester Straße or the A23 Inzersdorf exit.
We offer free parking at this location. This reduces the time spent searching for parking and makes it much easier to transport your belongings from your vehicle to the storage unit and vice versa.
Opening Hours
You can access the storage units in Vienna Triester Straße every day from 06:00 to 22:00. Our convenient outdoor units are accessible 24/7.
You can enter the building with your own access code, which you can set during the booking process.
Our team is available to assist you in person, via phone, or via email from Monday to Friday, 08:30 to 17:30, and on Saturdays from 09:00 to 13:00.
Any Questions?
Are you wondering what storage unit size is right for the amount of items you want to store? Our practical storage space calculator can help you find the right compartment for your needs. Alternatively, you can contact our experienced storage professionals by phone or in person at the facility. They will also be happy to provide information about proper storage and our extensive range of additional services.
Our services in Wien Triester Straße
Satisfied customers in Wien Triester Straße