Self Storage 1220 Wien Hirschstetten
Rent a Self Storage Unit in Hirschstetten Vienna and Store Your Belongings Safely and Conveniently.
Personal consulting
Available now, flexible durations
All-round service
Parking lot
Your furniture, tools, skiing gear, and more are taking up too much space in your home? Store them in one of our 850 safe, temperature-controlled units at the Hirschstetten location in Vienna.
Self Storage in Hirschstetten: Discover the Benefits
Rent one of our storage units in Vienna Hirschstetten via the easy and quick online process or directly on-site and enjoy the following benefits:
Parking paces with additional security precautions: You can park your second car, trailer, motorhome, motorcycles, and more in our video-monitored parking spaces in the short or long term. 
Extra insurance: The safety of your belongings is our highest priority. Our affordable compartment insurance also covers damages caused by fire, burglary, vandalism, water damage, and natural disasters.
Outdoor compartments with 24/7 access: Our well-secured outdoor compartments are accessible to you around the clock, providing maximum flexibility.
Compact boxes: Our 1 m³ compact boxes are the perfect storage space if you only want to store a few items.
Spacious loading area: The generous loading area makes loading and unloading items a breeze. You can quickly and easily pack and unpack your car without wasting unnecessary time and energy.
Barrier-free transport routes: Our Hirschstetten location in Vienna is equipped with barrier-free transport routes, allowing all of our customers to store their belongings easily and safely.
Two spacious freight elevators: The location has two spacious freight elevators that allow you to store and transport heavy and bulky objects effortlessly.
Self Storage Costs & Rental Period
Rental is at a fixed price and is billed every four weeks. The costs of our storage compartments vary according to size and availability. Here you will find a general overview of our prices at the Wien Hirschstetten location: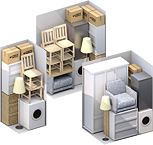 Small, 1-3 m2
from 11,58 EUR per week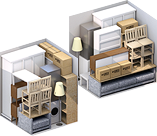 Medium, 3-5 m2
from 27,74 EUR per week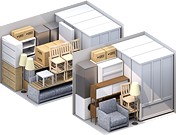 Large, 5-10 m2
from 49,06 EUR per week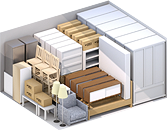 XL, 10-20 m2
from 71,65 EUR per week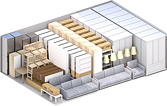 XXL, 20-50 m2
from 124,93 EUR per week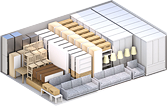 XXXL, >50 m2 currently unavailable
Rental can start at any time. The minimum term is 2 weeks, the remaining term of the lease can be customized to your needs and can be terminated on a weekly basis. We at MyPlace SelfStorage greatly value long-term relationships with our customers and reward the loyalty of our long-term tenants with a discount of -15 % on the annual rent (in case of prepayment).
A detailed list of available warehouse sizes and costs can be found in the next step of our easy booking process.
Directions to Our Storage Facility in 1220 Vienna
Our location in Hirschstetten, Vienna, at Franz-Fellner-Gasse 5, is connected to several public transportation lines. You can reach us via:
U1 (Kagran or Kagraner Platz station) or
U2 (Aspernstraße station)
each with a transfer to bus line 22A (Süßenbrunner Straße station) and a short walk of 150 meters.
If you are arriving by car or van, we recommend the following routes:
Coming from the south (via the Tangente), take the Hirschstetten exit, turn right, and switch to A23, where you turn right at the next opportunity to reach our location.
Coming from the north (via the Tangente), take the Hirschstetten exit, turn left, switch to A23, and turn right at the next opportunity to reach our location.
Parking at our Vienna Hirschstetten location is free  - that way you can focus on your move and the storage of your items without having to worry about finding a parking space.
Opening Hours
The MyPlace SelfStorage facility in Vienna Hirschstetten is open every day from 06:00 to 22:00. Our convenient outdoor compartments are available 24/7.
You can access the building with your personal access code, which you can set individually during the booking process.
Our team are available to you on-site, by phone, or by email from Monday to Friday, from 08:30 to 17:30, and on Saturdays from 09:00 to 13:00.
Any Questions?
Unsure of how much storage space you will need for your belongings? Calculate the correct size with our practical storage space calculator.
Of course, you can also ask our experienced team, who will give you recommendations and support on all things storage: whether you need tips on packaging materials or the proper way to store items. We are also happy to advise you on our location-specific additional services.
Our services in Wien Hirschstetten
Satisfied customers in Wien Hirschstetten
from 206 reviews
Gute Erfahrung gemacht. Höflich bedient! Sehr zufrieden!
Immer freundlich und entgegenkommend Sehr kompetente Mitarbeiter bin sehr zufrieden gewesen,buche sicher wieder Lg helmuth michelitsch
Show all reviews