Self Storage 1210 Wien Floridsdorf
Rent a Self Storage Unit in Vienna Floridsdorf Today and Make Room For the Things that Matter
Personal consulting
Available now, flexible durations
All-round service
Parking lot
Our location in 1210 Vienna is the perfect place for your furniture, files and other belongings. We offer 1,050 high-security, clean compartments that provide enough space for your treasures.
Self Storage in Floridsdorf: Discover the Benefits
Simply rent one of our storage units at the Vienna Floridsdorf location online using our booking tool or directly on-site and benefit from the following advantages:
Expertly protected compartments: We do everything we can to protect your belongings and shield them from prying eyes. Our afforable compartment insurance additionally covers damage caused by fire, burglary, vandalism, water damage and forces of nature.
Video-monitored parking spaces: At the Vienna Floridsdorf location, we offer secured parking spaces for the safekeeping of second cars, trailers, caravans, motorcycles and classic cars.
Spacious loading area: Getting your belongings in and out of your compartment is a breeze thanks to our spacious drive-in and loading area - which you can use whether you are using your own car or a rented van.
Barrier-free transport: Our location in Vienna Floridsdorf is equipped with ramps and all-around accessible, making it easy for all of our clients to access their storage units effortlessly. 
Cargo elevators: For easy access and use of your storage space, a freight elevator is available at this location.
Self Storage Costs & Rental Period
Rental is at a fixed price and is billed every four weeks. The costs of our storage compartments vary according to size and availability. Here you will find a general overview of our prices at the Wien Floridsdorf location: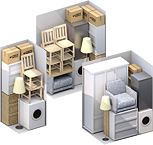 Small, 1-3 m2
from 14,06 EUR per week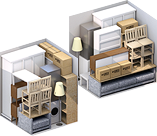 Medium, 3-5 m2
from 31,52 EUR per week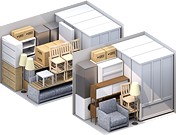 Large, 5-10 m2
from 40,25 EUR per week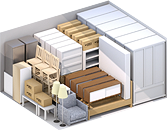 XL, 10-20 m2 only a few available
from 77,85 EUR per week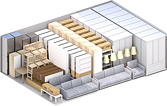 XXL, 20-50 m2 currently unavailable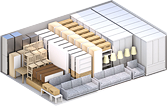 XXXL, >50 m2 currently unavailable
Rental can start at any time. The minimum term is 2 weeks, the remaining term of the lease can be customized to your needs and can be terminated on a weekly basis. We at MyPlace SelfStorage greatly value long-term relationships with our customers and reward the loyalty of our long-term tenants with a discount of -15 % on the annual rent (in case of prepayment).
A detailed list of available warehouse sizes and costs can be found in the next step of our easy booking process.
How to Reach Our Warehouse in 1210 Vienna
Due to our location on Katsushikastraße 4, we are optimally connected to the public transport network:
via U6 (Floridsdorf station)
via tram lines 30 and 31 (Bahnsteggasse station) or
via bus line 36B (Ignaz-Köck-Straße station)
By car or truck, the easiest way to reach us is via:
Nordbrücke SCN Donaufeld, where you turn right after 100 m
A22-exit Floridsdorfer Brücke (via Floridsdorfer Hauptstraße and Brünnerstraße), where you turn left into Bahnsteggasse to choose the second big entrance on the right.
At our Vienna Floridsdorf location, you can park free of charge in one of our numerous parking spaces. 
Opening Hours
The MyPlace SelfStorage warehouse in Vienna Floridsdorf is open for you every day from 06:00 to 22:00.
You can access the building with your individual access code, which you can select during the booking process.
You can reach our team from Monday to Friday from 08:30 to 17:30 and on Saturdays from 09:00 - 13:00 in person, by phone or by e-mail.
Any Questions?
Our aim is to provide you with an outstanding service experience and maximum convenience. Our competent team will be happy to help you with any questions you may have about packaging materials, making the most of your storage space or determining the best compartment size for your needs.
At MyPlace, we don't only provide you with a convenient new home for your belongings, but also offer a variety of additional services, including a free parcel acceptance service or moving and transport assistance, for a stress-free and smooth move.
Our services in Wien Floridsdorf
Satisfied customers in Wien Floridsdorf
from 141 reviews
Super nette Beratung, Barrierefrei, man fühlt sich SEHR gut aufgehoben, Lösungsorientiert!!
Show all reviews