Self Storage in Floridsdorf
In Need of More Space in Your Home or Business? Store Your Belongings in a Self Storage Unit in 1210 Vienna!
Personal consulting
Available now, flexible durations
All-round service
Parking lot
If you're moving in with a partner, abroad or into a smaller apartment and suddenly run out of space for furniture, clothes or craft supplies, we have the solution: affordable, convenient storage space in your vicinity! Find the right fit among our 420 secure, dry and temperature-controlled storage units at Josef-Brazdovics-Straße 9. You'll find more than enough space for all the things you don't want to part with, whether it's tools you don't currently need, clothing for the wrong season, or beloved children's books waiting to be read again.
Benefits for MyPlace Clients:
Booking a storage compartment at MyPlace is a matter of minutes thanks to our online booking. You can of course also rent a unit directly on site. If you choose Vienna Siemensstraße as your location, you get to profit from the following advantages:
Extra insurance: We take all possible measures to protect your stored items and shield them from prying eyes. Our affordable unit insurance also covers damages caused by fire, burglary, vandalism, water damage, and natural disasters.
Spacious loading area: With our generous loading area, loading and unloading items becomes effortless.
Barrier-free transport routes: Our 1210 Vienna location is designed for barrier-free transport, making it easy and safe for all of our customers to store their belongings.
Freight elevators: Two spacious freight elevators ensure fast and comfortable transportation. Even large and unwieldy objects can be stored in no time.
Self Storage Costs & Rental Period
Rental is at a fixed price and is billed every four weeks. The costs of our storage compartments vary according to size and availability. Here you will find a general overview of our prices at the Wien Siemensstraße location: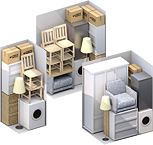 Small, 1-3 m2
from 9,33 EUR per week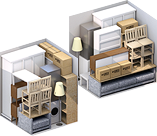 Medium, 3-5 m2
from 19,65 EUR per week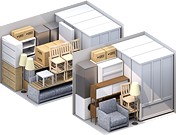 Large, 5-10 m2
from 27,57 EUR per week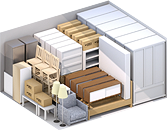 XL, 10-20 m2
from 57,02 EUR per week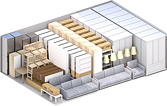 XXL, 20-50 m2
from 119,26 EUR per week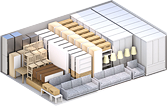 XXXL, >50 m2 currently unavailable
Rental can start at any time. The minimum term is 2 weeks, the remaining term of the lease can be customized to your needs and can be terminated on a weekly basis. We at MyPlace SelfStorage greatly value long-term relationships with our customers and reward the loyalty of our long-term tenants with a discount of -15 % on the annual rent (in case of prepayment).
A detailed list of available warehouse sizes and costs can be found in the next step of our easy booking process.
How to Reach Our Location Close to Siemensstraße
Our location at Josef-Brazdovics-Straße 9 is easily accessible by public transport:
via  the train lines S1/S2/S7 - Siemensstraße station
by bus 29A (Serpendingasse station)
by bus 31A (Sorgenthalgasse station)
Are you traveling by car or truck? We recommend the following route:
via Siemensstraße or Leopoldauer Straße to Josef-Brazdovic-Straße.
Worried about finding parking? We've got you! Our parking spaces at Josef-Brazdovics-Straße 9 are available free of charge. This allows you to load and unload your belongings right at our door and store them quickly and conveniently.
Opening Hours
You can use your storage units at the MyPlace SelfStorage near Siemensstraße every day from 06:00 to 22:00.
You can access the building using your individual access code, which you can set during the booking process.
Our staff is available to assist you personally, by phone, or via email from Monday to Friday, 08:30 to 17:30, and on Saturdays from 09:00 to 13:00.
Any Questions?
Don't hesitate to you contact our team via phone call or ask them for an in-person consultation. They will answer all of your questions and inform you about our additional service offerings as well as proper storage methods. Thanks to their extensive experience, they can find the right solution for all your storage needs. If you want to quickly determine the ideal size of your storage unit to accommodate your belongings, our storage space calculator is a quick and easy tool that can help you out.
Our services in Wien Siemensstraße
Satisfied customers in Wien Siemensstraße
from 29 reviews
Sehr freundliche und hilfsbereite Mitarbeiter. Genügend Platz auch für große Lieferungen. Preis - Leistung absolut in Ordnung. Unkomplizierte und rasche Abwicklung der Formalitäten. Kann man wirklich empfehlen. Komme bei Bedarf bestimmt wieder.
Kann mich nur bedanken hab ein echt guten Service bekommen und wurde sehr gut beraten ich habe mich echt sehr wohl gefühlt bei euch danke Frau Süß!!!
Alle Bewertungen anzeigen