Rent Storage in 1110 Wien Simmering
The Best Way to Make Room For Growth: Rent a Self Storage Unit in Vienna Simmering.
Personal consulting
Available now, flexible durations
All-round service
Parking lot
If you need more space in your own four walls and want to find a new home for some of your household items, furniture, or documents in the long or short term, then you've come to the right place at MyPlace SelfStorage. At our location in Baudißgasse 2a, you'll find around 400 clean, temperature-controlled and break-in-protected storage units in various sizes. You are sure to find the perfect storage solution for your needs!
Self Storage in 1110 Vienna: Discover the Benefits
Conveniently book your storage unit online or directly on-site at the 1110 Vienna location and benefit from the following advantages:
24/7 access to outdoor units: Our break-in-proof outdoor units are accessible to you around the clock for maximum flexibility.
Charging station for electric cars: At the Simmering location in Vienna, you can use our charging station for electric cars and charge your vehicle while storing your belongings.
Generous loading area: The spacious loading area makes loading and unloading items a breeze.
Barrier-free transport: All corridors and transport routes at our Simmering location are stair-free, accessible and well-lit to ensure the safest, easiest and fastest storage process possible.
Spacious freight elevators: Two spacious freight elevators ensure fast and comfortable transport, making it easy to load and unload items. Even large and unwieldy objects can be stored in no time.
Self Storage Costs & Rental Period
Rental is at a fixed price and is billed every four weeks. The costs of our storage compartments vary according to size and availability. Here you will find a general overview of our prices at the Wien Simmering location: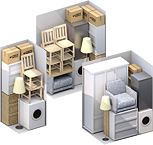 Small, 1-3 m2
from 13,05 EUR per week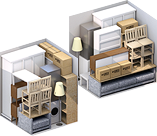 Medium, 3-5 m2
from 26,25 EUR per week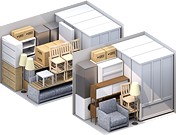 Large, 5-10 m2
from 39,62 EUR per week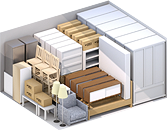 XL, 10-20 m2
from 47,22 EUR per week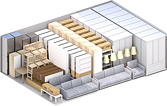 XXL, 20-50 m2
from 106,75 EUR per week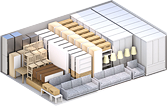 XXXL, >50 m2 currently unavailable
Rental can start at any time. The minimum term is 2 weeks, the remaining term of the lease can be customized to your needs and can be terminated on a weekly basis. We at MyPlace SelfStorage greatly value long-term relationships with our customers and reward the loyalty of our long-term tenants with a discount of -15 % on the annual rent (in case of prepayment).
A detailed list of available warehouse sizes and costs can be found in the next step of our easy booking process.
Directions to Our Storage Facility in Simmering
Due to our convenient location in Baudißgasse 2a, you can easily reach us both by public transport and with your private vehicle.
The best way to reach us by public transport is:
via U3 station Simmering, tram lines 71 or 11 (station Zentralfriedhof 3. Tor), and bus lines 71A or 71B (station Etrichgasse)
via S7 (train station Kaiserebersdorf) and a two-minute walk
For arrival by car or transport vehicle, we recommend the following routes:
From the city center, follow the A4 route towards the airport/A23 until the Simmeringer Haide exit, then take Jedletzbergerstraße, Zinnergasse, and Simmeringer Hauptstraße to reach Baudißgasse.
Coming from Lower Austria (Schwechat), you can reach us via Simmeringer Hauptstraße by turning left at the first traffic light into Awarenstraße and then left again into Baudißgasse.
Our Simmering location in Vienna not only offers you convenient and flexible storage options but also numerous free parking spaces on-site. This eliminates the hassle of searching for a suitable parking spot, allowing you to quickly and easily store your belongings.
Opening Hours
The units in the MyPlace SelfStorage facility in Vienna Simmering can be accessed every day from 06:00 to 22:00. Our convenient outdoor units are available 24/7.
You can access the building using your individual access code, which you can select during the booking process.
Our staff is available to assist you personally, by phone, or via email from Monday to Friday, 08:30 to 17:30, and on Saturdays from 09:00 to 13:00.
Any Questions?
At MyPlace SelfStorage, we are proud of providing our customers with the best possible service and highest level of convenience. Our well-trained team is always ready to assist you by phone or in person, whether it's answering questions about the booking process, helping with the packaging of your belongings, or providing guidance during the storage itself. In addition to expert advice on our storage units, we are also happy to inform you about our numerous additional services, such as our convenient package receiving service or our transport and moving assistance.
Our services in Wien Simmering
Satisfied customers in Wien Simmering
from 137 reviews
Sehr schöne Lagerräume und nettes Personal ??
Super nette Kundenbetreuung. Unkompliziert und schnell!
Alle Bewertungen anzeigen