Self Storage in 1160 Wien Hernals
Make Room for Growth Today and Rent a Self Storage Unit in Vienna Hernals.
Personal consulting
Available now, flexible durations
All-round service
Parking lot
Our storage compartments in Vienna Hernals are the perfect option for anyone looking to store personal items, inventory and tools, furniture, summer tires or household goods in a clean and secure storage unit in their vicinity. With over 1,600 compartments across five floors, we offer all the space you could need while guaranteeing excellent security and ideal storage conditions for your belongings.
Self Storage in Vienna Hernals: Discover the Benefits
Simply book one of our storage units on Wattgasse 40-44 online or in person and benefit from the following advantages:
24/7 outdoor compartments: We offer practical outdoor compartments that you can use around the clock. 
Compact boxes: Rent practical storage boxes in the size of 1 m³ for an affordable XS-storage option.  
Wine cellar:  Wines and spirits stored in our compartments are kept in ideal condition thanks to our advanced temperature and humidity control.
Generous loading area: You can load and unload your items quickly and easily without wasting unnecessary time and energy thanks to our large loading area.
Accessibility: Our location in Vienna Hernals is barrier-free and therefore easily and safely accessible for all customers
Two spacious freight elevators: The location offers two spacious freight elevators that make it easy to load and unload items. This allows you to store and transport even heavy and bulky items with ease.
Self Storage Costs & Rental Period
Rental is at a fixed price and is billed every four weeks. The costs of our storage compartments vary according to size and availability. Here you will find a general overview of our prices at the Wien Hernals location: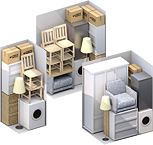 Small, 1-3 m2
from 12,74 EUR per week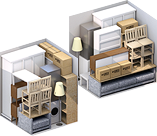 Medium, 3-5 m2
from 23,03 EUR per week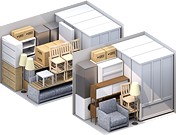 Large, 5-10 m2
from 42,16 EUR per week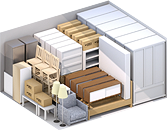 XL, 10-20 m2
from 86,25 EUR per week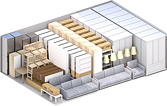 XXL, 20-50 m2 only a few available
from 181,55 EUR per week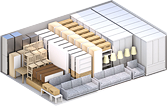 XXXL, >50 m2 currently unavailable
Rental can start at any time. The minimum term is 2 weeks, the remaining term of the lease can be customized to your needs and can be terminated on a weekly basis. We at MyPlace SelfStorage greatly value long-term relationships with our customers and reward the loyalty of our long-term tenants with a discount of -15 % on the annual rent (in case of prepayment).
A detailed list of available warehouse sizes and costs can be found in the next step of our easy booking process.
Directions to Our Warehouse in 1170 Vienna
Visit us at our location in Wattgasse 40-44! The best way to reach us is by public transport:
via tram line 2 (Wilhelminenstraße station)
via bus line 10A (Wilhelminenstraße station)
If you arrive by car or transport vehicle, the following route is best:
Drive past Schönbrunn Palace along Schlossallee, Johnstraße, Schmelz and Possingergasse. Then continue straight ahead and cross Thaliastraße to reach Wattgasse and our storage facility.
Of course, parking is free for our customers!
Opening Hours
The MyPlace SelfStorage units in Vienna Hernals can be accessed every day from 06:00 to 22:00. Our practical outdoor compartments can be used 24/7.
You can gain access to the building with your individual access code, which you can set during the booking process.
You can reach our warehouse professionals in person, by phone or by e-mail from Monday to Friday from 08:30 to 17:30 and on Saturdays from 09:00 - 13:00.
Any Questions?
Unsure about the booking process, need storage tips or are wondering which compartment size would be right for you? Simply contact our experienced team. Our employees at Vienna Hernals will be happy to assist you in person, by phone or via the contact form. To find the right storage solution, you can also use our practical storage calculator. Our additional services provide extra convenience and support with all things storage.
Our services in Wien Hernals
Satisfied customers in Wien Hernals
from 252 reviews
Eine sehr freundliche und kompetente Beratung und Abwicklung. Vielen Dank
Auch bei ungewöhnlichen Problemstellungen sind die Mitarbeiter super hilfreich!
Show all reviews