Self Storage Compartments in 1100 Wien Favoriten
A Storage Unit in Vienna Favoriten Will Help You Get Your Home Organised and Clutter-free
Personal consulting
Available now, flexible durations
All-round service
Parking lot
Do you need a flexible, secure storage option for your household goods, or would you like to store furniture, tires, your home trainer, hobby equipment and more conveniently in Vienna Favoriten? Our experienced team will help you to choose the right storage solution and find the perdect unit for you among our 900 storage compartments.
Self Storage in Favoriten: Enjoy the Benefits
Rent a storage unit in Vienna Favoriten via our online tool or directly at the location and benefit from the following advantages:
Outdoor compartments with 24/7 access: our outdoor compartments offer you round-the-clock access to your stored goods.
Spacious drive-in and loading area: To ensure that the loading and unloading of your storage items runs smoothly, our location has a generously sized loading area.
Bright, short transport routes: At our location in 1100 Vienna, you will find well-lit and short transport routes so that our customers feel comfortable and can find their way around effortlessly at any time of day.
Two spacious cargo elevators: The location offers two spacious cargo elevators, so that all four floors can be accessed without using stairs and even heavy storage goods can be transported and stored comfortably.
Self Storage Costs & Rental Period
Rental is at a fixed price and is billed every four weeks. The costs of our storage compartments vary according to size and availability. Here you will find a general overview of our prices at the Wien Favoriten location: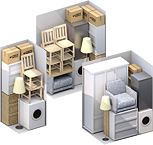 Small, 1-3 m2
from 12,06 EUR per week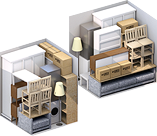 Medium, 3-5 m2
from 27,36 EUR per week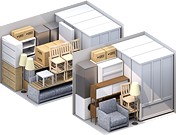 Large, 5-10 m2
from 32,99 EUR per week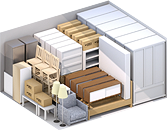 XL, 10-20 m2
from 64,71 EUR per week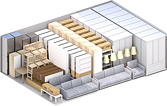 XXL, 20-50 m2
from 129,74 EUR per week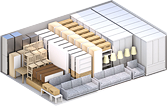 XXXL, >50 m2 currently unavailable
Rental can start at any time. The minimum term is 2 weeks, the remaining term of the lease can be customized to your needs and can be terminated on a weekly basis. We at MyPlace SelfStorage greatly value long-term relationships with our customers and reward the loyalty of our long-term tenants with a discount of -15 % on the annual rent (in case of prepayment).
A detailed list of available warehouse sizes and costs can be found in the next step of our easy booking process.
How to Reach Our Warehouse in 1100 Vienna
Public transport makes it easy for you to come visit us at our location on Grenzackerstrasse 4:
via U1 (station Altes Landgut) approx. 250 m walk
via bus line 15A (station Altes Landgut or Daumegasse) plus a short walk
We recommend the following routes, if you want to reach us by car:
via the Wiener Südosttangente (exit Verteilerkreis Favoriten in the direction of Wienerberg)
via Triester Straße, from where you reach Raxstraße, which turns into Grenzackerstraße. Drive around the Verteilerkreis or turn left into Daumegasse (ÖAMTC) to access the rear of our company building.
Of course, you can always use one of our numerous parking spaces at our Vienna Favoriten location free of charge. This saves you the hassle of searching for a parking space and precious time. 
Opening Hours
The storage compartments in Vienna Favoriten can be accessed every day from 06:00 to 22:00. Our practical outdoor compartments can even be used 24/7.
You gain access to the building with your individual access code, which you can select during the booking process.
You can reach our staff in person, by phone or by e-mail from Monday to Friday from 08:30 to 17:30 and on Saturdays from 09:00 - 13:00.
Any Questions?
Service and convenience are our top priorities: our experienced team are experts when it comes to packaging materials, transport and making the most of small spaces and will be happy to help you over the phone or during a on-site consultation.
If you want to find out what storage size is right for your needs, you can check our handy storage calculator. You will also find a variety of additional services at MyPlace, such as our parcel acceptance service or our transport and relocation assistance.
Our services in Wien Favoriten
Satisfied customers in Wien Favoriten
from 288 reviews
Sehr hilfsbereites Team, vielen Dank für alles ?
Alles sehr sauber, übersichtlich, Transporthilfen ausreichend vorhanden.
Show all reviews