Self Storage 1150 Wien Mariahilfer Straße
Make Room For Growth and Rent One of Our Storage Units in 1150 Vienna.
Personal consulting
Available now, flexible durations
All-round service
Parking lot
You urgently need more space in your home, but don't have a basement or an attic? Your home is being renovated, and some items need to make room to allow for the work to happen? Renting our storage rooms is easy, fast and convenient and you can cancel your contract at any time after a period of two weeks. Choose one of our 850 storage units located in the heart of Vienna and enjoy the extra space!
Storage Units on Mariahilfer Straße: Learn About Our Benefits
Book a storage unit online or directly at our Vienna Mariahilfer Straße location and benefit from the following advantages:
High-security parking spots: Do you want to park your second car, trailer, caravan, motorcycles, or vintage cars in a space that has 24/7 surveillance and high-level security measures in place? We offer affordable short- or long-term parking options.
Extra insurance: Our top priority is to protect your belongings and keep them away from prying eyes. Therefore, we offer cost-effective compartment insurance that covers damages caused by fire, burglary, vandalism, water damage, and natural disasters.
24/7 outdoor units: Our convenient outdoor units provide you with access to your stored goods around the clock.
Compact boxes: Our 1 m³ compact storage boxes are perfect for stowing away small items.
Large loading area: At the Mariahilfer Straße location, you have plenty of space to load and unload your vehicles in a relaxed and stress-free manner. 
Barrier-free transport routes: Our location in 1150 Vienna is equipped with short and accessible transport routes which ensure that all of our customers can store their belongings easily and safely.
Cargo elevator & ramps: This location offers a cargo elevator, ramps to all levels, and a lifting platform.
Self Storage Costs & Rental Period
Rental is at a fixed price and is billed every four weeks. The costs of our storage compartments vary according to size and availability. Here you will find a general overview of our prices at the Wien Mariahilfer Straße location: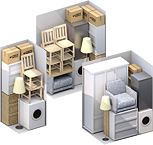 Small, 1-3 m2
from 13,17 EUR per week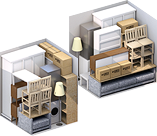 Medium, 3-5 m2
from 29,04 EUR per week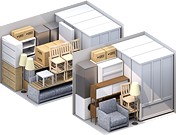 Large, 5-10 m2
from 40,92 EUR per week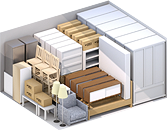 XL, 10-20 m2 only a few available
from 88,97 EUR per week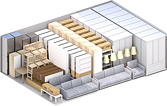 XXL, 20-50 m2 currently unavailable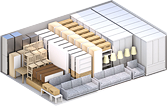 XXXL, >50 m2 currently unavailable
Rental can start at any time. The minimum term is 2 weeks, the remaining term of the lease can be customized to your needs and can be terminated on a weekly basis. We at MyPlace SelfStorage greatly value long-term relationships with our customers and reward the loyalty of our long-term tenants with a discount of -15 % on the annual rent (in case of prepayment).
A detailed list of available warehouse sizes and costs can be found in the next step of our easy booking process.
How to Reach MyPlace in 1150 Vienna
Thanks to its location at the center of Vienna, you can easily reach our location on Mariahilfer Straße 198 by using the following tram and bus lines:
Tram line 52 (Rampengasse stop)
Tram line 60 (Rampengasse stop)
Bus line 12A (Mariahilfer Straße/Geibelgasse stop)
If you are transporting your belongings by car or truck, the best route to reach us is as follows:
From Westbahnhof, take the Äußere Mariahilfer Straße
Continue onto Linke Wienzeile and Winckelmannstraße
You can park for free at our Vienna Mariahilfer Straße location. No hunt for a parking space needed.
Opening Hours
You can access the MyPlace SelfStorage units in Vienna Mariahilfer Straße every day from 06:00 to 22:00. Our convenient outdoor units are available 24/7.
You can access the building with your individual access code, which you can set during the booking process.
Our storage professionals can be reached from Monday to Friday from 08:30 to 17:30 and on Saturdays from 09:00 to 13:00, either in person, by phone, or by email.
Any Questions?
If you have any further questions about our storage units, the storage process, or our additional services such as the package acceptance or the moving service, feel free to call us or visit us in person during office hours. We are happy to assist you with any inquiries! To determine how much storage space you need for your belongings, we recommend using our practical storage space calculator for a quick overview.
Our services in Wien Mariahilfer Straße
Satisfied customers in Wien Mariahilfer Straße
from 361 reviews
Helpful staff, it doesn't take long to get your storage place, everything very clear, great and secure facilities and a very affordable price, I highly recommend this place!
Helle, saubere Lagerräume, freundliches Personal, korrekte Abwicklung, ausreichende Öffnungszeiten, wirklich empfehlenswert !
Show all reviews